Title: Attorney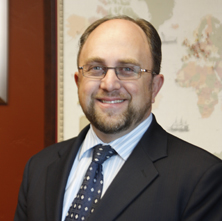 Shawn Farris is a managing partner of Farris & Utley. His practice includes the areas of civil litigation both in federal courts and state courts, real estate transactions and disputes, contract issues, mediation and the formation of business entities. He represents a variety of businesses and individuals in the United States, Japan, Germany, Denmark and Mexico.
His undergraduate studies commenced in Denmark and were completed in Brigham Young University with a BS in international marketing with emphasis in the Danish and Spanish languages. He was awarded his juris doctorate from J. Reuben Clark Law School, BYU. He served for seven years as a Judge Pro Tempore in the Washington County Justice Court. He is a former president and board member of the Southern Utah Bar Association.
He is a legal education instructor for the Utah Administrative Office of the Courts for the annual training of justice court judges, a lecturer for National Business Institute, and also been a guest lecturer at the Nanjing School of Law in China, and at the law schools of Universitatea de Stat din Moldova and Universitatea de Stat Alecu Russo din Bălţi in the Republic of Moldova where he lectured on American Law to Chinese and Moldavian law students and faculty.
International travel is a favorite pastime.  He has made multiple appearances on the Amateur Traveler talk show regarding his travels in Romania, Serbia, Kosovo and Guangxi Region of China.  As of the end of 2013, he has visited 69 countries so far in his travels.
Email: Farris@FarrisUtley.com
Phone: (435) 634-1600
Address:
2107 W Sunset Blvd, Second Floor
Saint George, UT 84770
Phone: (435) 634-1600
Facsimile: (435) 628-9323
E-Mail: info@farrisutley.com